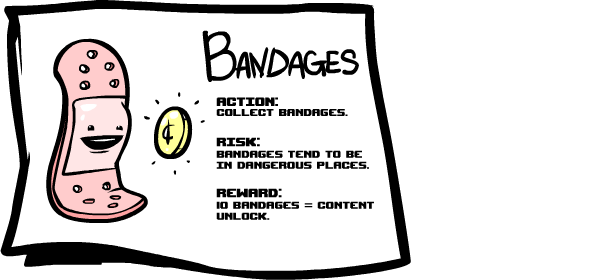 Bandages are the objects in Super Meat Boy that allow you to unlock certain characters. The bandages are often in places that require the player to extend playtime greatly or increase difficulty. The bandage has to be collected and the level finished on that life to obtain. Whenever a milestone in bandages has been reached the corresponding character is unlocked for player use. The milestones are in groups of ten, with characters unlocked each time.
Each world has 20 bandages. 7 bandages in the light world, 7 bandages in the dark world and 6 bandages in (non-character) warp zones. Every warp zone has 2 bandages.
Levels That Have Bandages
[
]
Key:
[
]
X: Dark World
Given 1-5: 1 is the World, 5 is the level.
In Order:
[
]
1-4
1-5 Sky Pup Warp Zone level 1
1-5 Sky Pup Warp Zone level 2
1-7
1-9
1-11
1-13
1-18
1-19 Hand Held Hack Warp Zone level 2
1-19 Hand Held Hack Warp Zone level 3
1-20
1-3X
1-5X
1-10X
1-13X Space Boy Warp Zone level 2
1-13X Space Boy Warp Zone level 3
1-14X
1-15X
1-17X
1-19X
2-2
2-5
2-10
2-12 Castle Crushers Warp Zone level 1
2-12 Castle Crushers Warp Zone level 2
2-13
2-15 The Blood Shed Warp Zone level 1
2-15 The Blood Shed Warp Zone level 3
2-16
2-18
2-20
2-4X
2-5X 1977 Warp Zone level 1
2-5X 1977 Warp Zone level 3
2-6X
2-7X
2-10X
2-12X
2-15X
2-16X
3-1
3-2
3-4
3-5 Cartridge Dump Warp Zone level 1
3-5 Cartridge Dump Warp Zone level 3
3-7 Tunnel Vison Warp Zone level 1
3-7 Tunnel Vison Warp Zone level 3
3-10
3-11
3-18
3-20
3-3X
3-5X
3-6X
3-7X
3-8X Kontra Warp Zone level 2
3-8X Kontra Warp Zone level 3
3-14X
3-16X
3-19X
4-2
4-6
4-8 Brimstone Warp Zone level 2
4-8 Brimstone Warp Zone level 3
4-9
4-13
4-14 The Key Master Warp Zone level 2
4-14 The Key Master Warp Zone level 3
4-16
4-17
4-20
4-3X
4-4X
4-7X MMMMMM Warp Zone level 2
4-7X MMMMMM Warp Zone level 3
4-8X
4-10X
4-14X
4-18X
4-19X
5-1 Skyscraper Warp Zone level 2
5-1 Skyscraper Warp Zone level 3
5-3
5-5
5-9
5-12
5-12 Sunshine Island Warp Zone level 1
5-12 Sunshine Island Warp Zone level 3
5-16
5-18
5-20
5-4X
5-5X
5-8X
5-10X
5-11X
5-17X
5-18X
5-20X Meat is Death Warp Zone level 1
5-20X Meat is Death Warp Zone level 2
In Meat Boy
[
]
In the original Meat Boy game, bandages are found in the following levels:
1-3 Going Up
1-5 Windows
1-7 Daredevil
1-9 Damage Control
1-12 The Buzz Cut
1-14 Cliffhanger
2-3 Salt Falls
2-4 Flying Meat
2-6 Shafted Meat
2-9 Bipolar
2-11 White Gold
2-14 Breakout
3-1 Easy Peasy
3-2 Lava Awareness
3-7 Touchy Feely
3-9 The Floater
3-12 Hell House
3-15 SATANICA
4-1 Urban Decay
4-4 A Simple Jump
4-5 No Touching
4-6 The Kicking Machine
4-7 Civilized Worm
4-10 Sky Pup